A slightly geeky trip to Edinburgh: Castles, museums, and Star Wars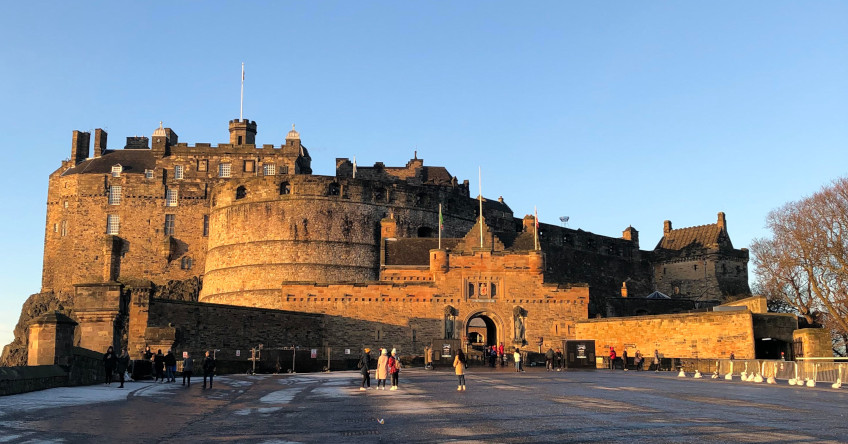 My Christmas break has officially begun! With an excess of leave to use after all this year's hard work, I kicked off the festive season with a trip to Edinburgh, where I hit the usual tourist traps, found some geeky gems, and tried to avoid freezing.
The usual suspects
There are some things that are must-dos whenever you visit a major city. In Edinburgh's case the obvious candidate was the castle, which provided an interesting glimpse into the past and a surprising amount of modern history, too. This was also where I tried the first (sort-of) whisky that I've ever properly liked – a locally-produced liqueur made with fermented honey. So it gets credit for that, too.

I also visited the pretty little Dean Village, which was crawling with Instagrammers, before taking a surprisingly quiet stroll up the Water of Leith and under the Dean Bridge to Stockbridge, where I stopped at a cosy French patisserie called Madeleine for a quiche and hot chocolate. In the evenings I also ended up making a couple of stops at a place called The Pop-Up Geeks, which at the time of my visit was decked out as the Star Wars Cantina and serving drinks inspired by the space saga.
My impression based on my couple of days of wandering is that Edinburgh is a picturesque city with a lot of history, and outside of the obvious spots – Edinburgh Castle and the Christmas market, for example – it was largely free of the hordes of tourists that Londoners are forced to endure.
National Museum of Scotland
This gets a section all of its own because it was the highlight of my trip. The National Museum of Scotland sits slightly to the south of the Royal Mile in a beautiful building full of open spaces occupied by suspended animals and – to my surprise – planes. You could easily spend an entire day exploring the museum's collections, but I made the most of the couple of hours I had and it was well worth the visit.

The technology hall, which houses the famous cloned sheep Dolly, also had a rack of Formula 1 cars that charted the development of the former Stewart team (Jos Verstappen) through its Jaguar years (Eddie Irvine) to the Red Bull of today. My only complaint was that as the cars were stacked on top of each other it wasn't possible to get a close look at any of them but David Coulthard's Red Bull.
Overall, though, I have to say the National Museum of Scotland's presentation was impeccable throughout. The halls at either end of the building were the highlights, but the other exhibitions – including one on Asian history that featured a few Japanese pieces – were just as well done on a smaller scale. The museum didn't feature prominently on the lists of attractions I reviewed prior to my trip, but I'd certainly make time for a longer visit if I ever return to Scotland in future.
Looking for the comments? My website doesn't have a comments section because it would take a fair amount of effort to maintain and wouldn't usually present much value to readers. However, if you have thoughts to share I'd love to hear from you - feel free to send me
a tweet
or
an email
.